Promises:
Use daily to condition, moisturize and restore natural sheen to your hair and scalp. Helps prevent split ends and breakage. Excellent conditioner for natural, pressed, relaxed or color treated hair. Recommended as a conditioner for babies' hair and skin
Directions:
Apply daily to wet or dry scalp to keep hair healthy and well conditioned.

Ingredients:
Hollywood Beauty Oil Complex (Castor Oil, Mink Oil, Sweet Almond Oil, Tocopheryl Acetate (Vitamin E), Jojoba Oil, Paraffin Oil, Safflower Oil, Lanolin, Cocoa Butter, Propylparaben, Fragrance.
The Truth:
This is a staple sealant for my ends (morning &/or night). I have been using this oil as a sealant since November 2008 (after my big trim alternating with Hot Six Oil). It seals in moisture very well. My ends stay hydrated and even (barely had to trim my ends since using it). This oil spreads easily onto the hair although it's solid. A little goes a long way, so if you over do it, your hair will be weighed down. Sometimes I'll use this on my scalp just before a relaxer. It works great on damp or dry hair.

Price:
$4.99 CAD 7.50 OZ
Hairlicious Rating:





(5/5) Excellent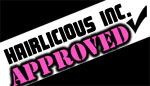 ♥ Sunshyne